Concrete Paving in Sanford, NC
Maddox Concrete, LLC provides both commercial and residential customers with a variety of concrete services. Whether your home sidewalk is riddled with cracks and is in desperate need of repair or your business is looking to replace a parking lot, Maddox Concrete LLC has the professionals, expertise and products to deliver. We take pride in our commitment to each and every concrete project, regardless of size. Here are some of the expert services that you can expect from Maddox Concrete, LLC: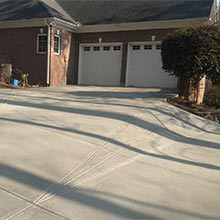 Concrete Paving:
When building a new office or a new home, Maddox Concrete, LLC is there to take care of all of your concrete paving needs. Whether you need a new driveway or a new sidewalk, Maddox Concrete, LLC can pave it. With emphasis on a high-quality finished product, you can trust our paving experts.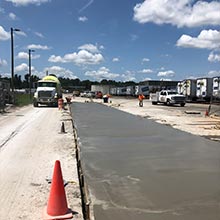 Replacement & Repairs:
Walking and driving over constant bumps and cracks is certainly not ideal and can even be potentially harmful or dangerous. Let Maddox Concrete, LLC fix or even fully repair or replace the old, worn-out concrete at your home or business. We can make your concrete beautiful, smooth and safe again.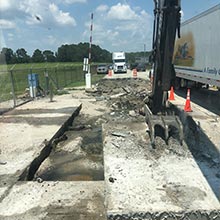 Hauling Services & Demolition Services:
Hauling services and/or demolition services in Sanford, NC are often needed when building something new from scratch or reconstructing an existing home or office building. Whether needed at your home or at your business, Maddox Concrete, LLC can get rid of your old concrete for you, allowing you to work with a fresh, clean slate.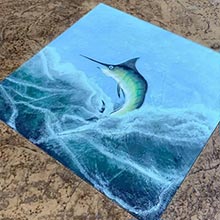 Decorative Stamped Concrete:
For custom decorative concrete, Maddox Concrete, LLC is the place to turn. We can help you create custom designs for your concrete, presenting just the look and feel that you want. At Maddox Concrete, LLC, we can also make your concrete resemble the design of cobblestone, rock, brick, tile and more with stamped concrete options.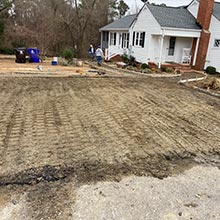 Land Grading:
Not all concrete is the same. In fact, concrete has grades assigned. Land grading requires precision, skill and years of experience. Grading must control the flow of water off the pavement, efficiently and effectively. Maddox Concrete, LLC has many years of experience in the grading process to prevent or correct short-term cracks, potholes and sinkholes in Sanford, Broadway, Bennett, Carthage, Lillington, Pittsboro, or Siler City, NC.
Above all else, Maddox Concrete, LLC is here to serve you. From decorative and stamped concrete to simple concrete sidewalks, we have it all. Contact us today at 919-353-2684 to learn more about our dedication to superior service and high-quality concrete services.