Concrete Repair in Sanford, NC
Maddox Concrete, LLC proudly offers concrete repair and replacement services to residential and commercial clients alike. Throughout Sanford, NC, our business is synonymous with excellence—especially when it comes to concrete repair and re-paving work. When we're on the job, you'll rest comfortably knowing the results will look great and stand the test of time. From a residential driveway to a commercial parking lot, we'll restore your concrete to a superior standard.
Concrete Repair
When cracks and crags form in your concrete, they open the door for bigger problems down the road—including water intrusion and trip hazards. We repair these damages and many others to restore the appeal and integrity to your concrete. We can patch cracks, fill divots and gouges, re-pour damaged sections and re-pave scored surfaces.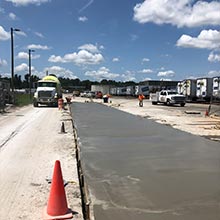 Concrete Replacement
If your concrete has seen better days and is damaged beyond a few patches and paved repairs, we can replace entire sections. Concrete replacement involves breaking old concrete and removing it, cleaning the area to remove debris, then re-paving the concrete to integrate it back into the larger paved surface. We repair concrete damages of all severities, as a more affordable option than complete repaving.
Demolition
It takes training, specialized equipment and hard work to demolish and haul away concrete properly. Instead of toiling away trying to accomplish a task you know nothing about, get in touch with us. We have the tools and the know-how to efficiently break down your concrete and remove it so that you can concentrate on other projects.
Don't Wait Another Day
Discover why Maddox Concrete, LLC remains the best in concrete repair in Sanford, Broadway, Bennett, Carthage, Lillington, Pittsboro, and Siler City, NC after a century in business! Contact us today at 919-353-2684 to find out more or to get an estimate on concrete repair or replacement, decorative concrete, hauling services, and more for your residential or commercial property.